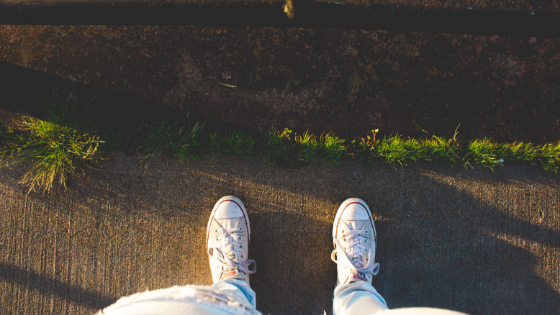 Do you have a pair of canvas sneakers that you're embarrassed to wear because they're too dirty or stained? Check out these 2 fun ideas for giving your old sneakers a cool new look they deserve!
Tie-Dye Your Sneakers
You'll need:
Tie dye kit
Newspapers
Zip-lock storage bag
Instructions:
Spread out newspapers to protect your working surface.
Remove the laces.
Wash and lightly towel-dry your sneakers.
Apply one of the tie-dye colors onto the shoes in your desired pattern. Since the shoe is damp, the color will naturally spread on their own!
Add more colors until the design reaches your satisfaction.
Place each shoe in a zip-lock bag and allow them to sit overnight. The bag will prevent the shoe from drying completely.
Wait 24 hours and then rinse shoes of excess dye until the water runs clear.
Allow to completely air-dry.
Make Them Sparkle
You'll need:
A small vial of fine glitter
Masking tape
Small disposable bowl
Glitter adhesive
Instructions:
Clean and thoroughly dry your sneakers and remove laces.
Apply masking tape to any areas that you do not want glitter on, such as the top edge of the soles and the toe cap.
Add about 1/3 ounce of fine glitter into the bowl.
Add glitter adhesive into the bowl. You should add enough to form a layer over the glitter.
Mix the glitter and glue together well, making sure to scrape the sides of the bowl. The glitter/glue combination should have the consistency of a thick lotion or hair conditioner.
Using a makeup wedge or other small foam applicator, carefully spread the glitter onto the shoes. Use a cotton swab to apply the glitter to the areas around the lace eyelets and on the tight spots where the tongue meets the shoe.
Allow shoes to dry for at least 24 hours before removing the masking tape and wearing.
Is your current closet overflowing with your footwear? Then it might be time to check out our apartments in Orlando, which boast oversized closets perfect for your shoe collection. Schedule a tour today!